Product Description

SUP ATX CARBON FIBER R1C RACE PADDLE 
SUP ATX has redefined the relationship between performance and affordability with the R-series of race paddles, providing quality and craftsmanship equal to that found in a $500 paddle at half the cost. The R1 features a 100% carbon fiber blade and stiff-flex shaft weighing an ultra light 17 ounces! The 100 sq-in blades come complete with an ABS edge for increase durability. FREE SHIPPING in the Continental US!

CARBON FIBER CONSTRUCTION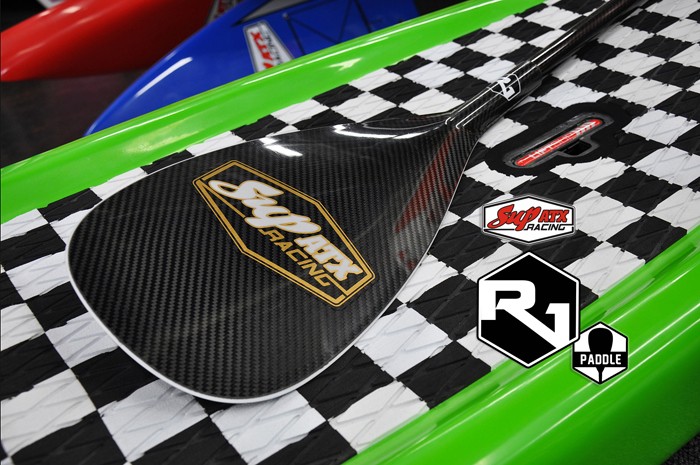 TECHNICAL SPECIFICATIONS – SUP ATX CARBON FIBER R1C RACE PADDLE
Manufacturer SUP ATX
Item – All Carbon Fiber R1C Race Paddle
Color – Hi-Gloss Carbon Fiber
Length – 87″ Total Length Uncut
Blade Width – 8.125″
Paddle Weight – 17  oz
Materials 100% Carbon Fiber Construction
LOOKING FOR A SPECIFIC SUP ATX BOARD?
If you do not see the specific SUP ATX Paddleboard or Accessory on Boardopolis.com or have seen one on the SUP ATX website let us know.  Boardopolis can do a custom order of you.  Just let us know what you are looking for from our partners at SUP ATX and we can get a custom order placed for you.  If you have questions drop us an email with your direct phone number.  We will get right back to you for instant help with getting the perfect SUP ATX Paddleboard(s) for you and or your family.
PADDLE
A good standup paddle is arguably the most important piece of equipment in a SUP paddling program. SUP ATX has a variety of affordable high quality aluminum and carbon fiber SUP paddles to suit every situation and paddler, from elite racer to a first time paddler on a budget. Aluminum standup paddles offer extreme durability and versatility in an affordable package, making these the perfect SUP paddles for rocky lakes and rivers and rental use. Carbon fiber standup paddles are strong and light, allowing for the excellent performance and energy conservation, increasing your endurance and stamina on the water. SUP ATX offers fixed length and adjustable paddles in multiple constructions, sizes and flex patterns. Choose the one that is best for you and know that you are getting the best quality standup paddle at the best price from the #1 SUP company in the world, SUP ATX!! How do we do it? SUP ATX is the worlds #1 SUP paddle maker and retailer, allowing us to retail paddles made in the same factories as higher end brand-name manufacturers at half the price. All standup paddles feature the SUP ATX quality guarantee.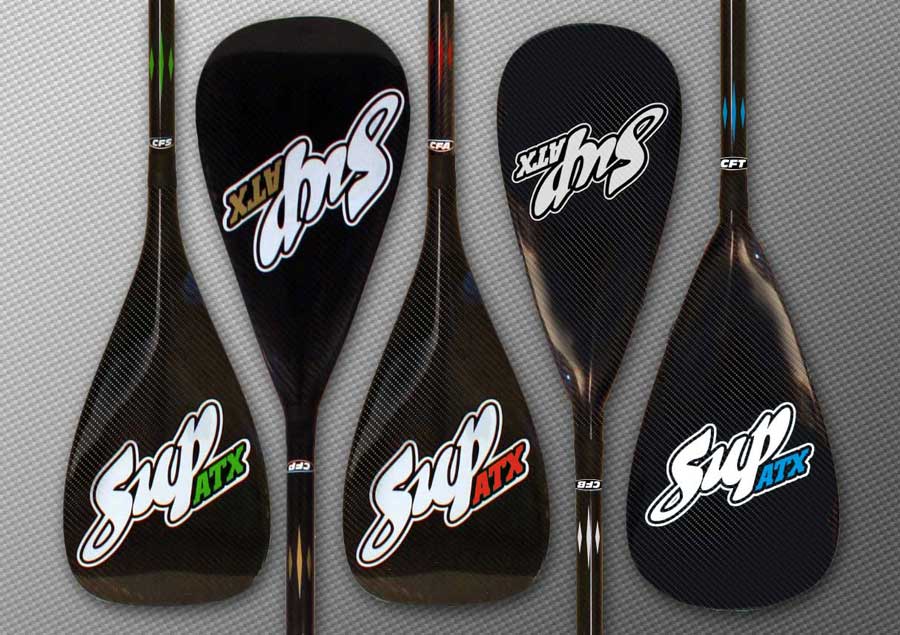 ABOUT SUP ATX
The #1 Stand Up Paddle Board Maker Worldwide
SUP ATX is credited with introducing and popularizing the sport of Stand Up Paddle Surfing (SUP) in lakes, rivers and surfing areas throughout the United States and around the world beginning in 2008. In its first year, SUP ATX established itself as the #1 Stand Up Paddle Board Maker Worldwide which it remains to this day. It started in Malibu, California when Travis Stassart and Mitch Taylor of Becker Malibu got SUP ATX founder Nick Matzorkis into paddle surfing. Immediately hooked, Nick was convinced the interest and demand for stand up paddling would be far greater in inland United States lakes and rivers than coastal regions. Sharing this vision with 25 year Becker veteran Mike Bill, they launched SUP ATX to develop, manufacture and distribute stand up paddle boards designed for ocean, lake AND river usage. The result is the SUP ATX line of stand up paddle boards that have since defined and revolutionized the stand up paddle board industry worldwide, officially moving the sport from the shores of Hawaii and Malibu to lakes, rivers and surfing areas everywhere.
SUP ATX began testing various board construction types and shapes in the ocean in Malibu. After determining which boards would work best in lakes and rivers as well as oceans, SUP ATX distributed their prototype boards to friends and associates for further testing and feedback from inland lakes and rivers around the world. This initial valuable feedback resulted in the development of the first generation SUP ATX line of stand up paddle boards and also began the process of spreading and popularizing stand up paddling in key recreational lakes and rivers throughout the central United States in 2008.
Birthed in Malibu, CA and raised in Austin, TX, SUP ATX lead the transformation of stand up paddling from being an exclusively ocean surfing sport to becoming a global flatwater phenomenon. This was documented by FOXsports with, "The SUP ATX Journey from Malibu to Austin". It didn't take long for the sport to take off quickly in SUP ATX's hometown of Austin, Texas. Not a day passes on Lady Bird Lake in downtown Austin without seeing hundreds of stand up paddlers gliding across the lake's surface. More people stand up paddle in Austin, Texas on a daily basis than any other city in the world, quickly having established it as the SUP Capital of the World!
SUP ATX Founder and Chairman, Nick Matzorkis is a serial entrepreneur having founded many highly successful enterprises around the world. Nick became an avid stand up paddler in Malibu, inspiring him to utilize his experience in creating and scaling large companies to spread his love for SUP around the world. SUP ATX President, Mike Bill and SUP ATX General Manager, Steve Mellem each have 25 years experience in all aspects of the surfing industry. Their vast experience includes surfboard manufacturing & distribution, managing the Becker Surf retail chain, online surfboard sales and shipping expertise. No one knows the surfing industry better than Mike and Steve and no other company knows how to guide the stand up paddle industry into the 21st century than SUP ATX.